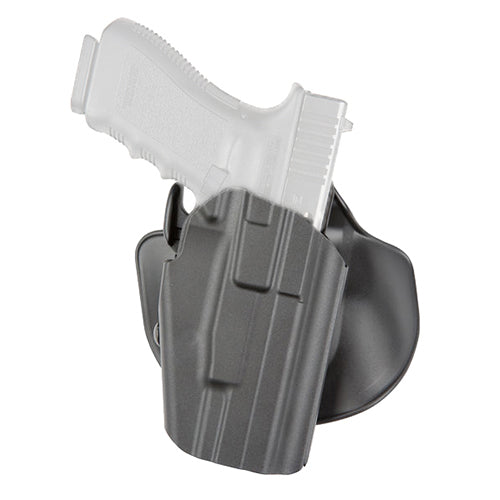 The Safariland Model 578 GLS Pro-Fit brings the unique GLS (Grip Lock System) and SafariSeven together in a holster designed to fit a wide variety of guns. The Pro-Fit is customizable and adjusts to securely fit over 60 firearms. The 578 also features the GLS an innovative technology that automatically secures the weapon when holstered and releases it upon application of the middle finger with a standard shooting grip for a more intuitive and safer release. The holster body is constructed with SafariSeven a lightweight state-of-the-art nylon blend is completely non-abrasive to a gun's finish tolerant of extreme high and low temperatures and easy to maintain. This holster includes an injection-molded paddle and an injection-molded belt loop that is adjustable for maximum comfort and allows the holster to be worn cross draw. With the paddle in place the holster can be carried either with or without a belt for all day comfort in any style of clothing.

Features:

- GLS (Grip Lock System) secures weapon once holstered; retention is deactivated with the middle finger upon a standard shooting grip on the weapon
- Designed to fit multiple weapons in one holster adjustment available to further customize fit
- Body is proprietary nylon blend that is non-abrasive to a firearm's finish maintains very high heat tolerance low cold tolerance
- Low-cut and compact design make concealment easy while also allowing for a quick draw
- Injection-molded paddle design is highly concealable and rides close to body
- Injection-molded belt loop is user adjustable for cant and can be worn cross draw

Specifications:

- Style: Outside the Waistband
- Material: Polymer
- Hand: Right Hand
- Muzzle: Open
- Attachment Style: Paddle & Belt Loop
- Color: Black

Fits:

Beretta:

- 92G 4.90"
- 96G 4.90"
- M9 4.90"
- M9 22LR 4.90"
- 96F 4.90"
- 96FS 4.90"
- 92 50"
- 96 4.90"
- 92FS 4.90"
- 92F 4.90"

Sig Sauer:

- P320 40S&W 4.70"
- P226 Legion 4.40"
- P226 4.40"
- P320 9mm 4.70"
- P226 MK25 4.40"

Springfield:

- XD(M) 9mm 4.50"
- XD(M) Threaded Barrel 9mm 5.28"
- XD(M) OSP Full Size 4.50"
- XD(M) 40 S&W 4.50"
- XD(M) Threaded Barrel 45 ACP 5.28"
- XD Tactical 9mm 50"