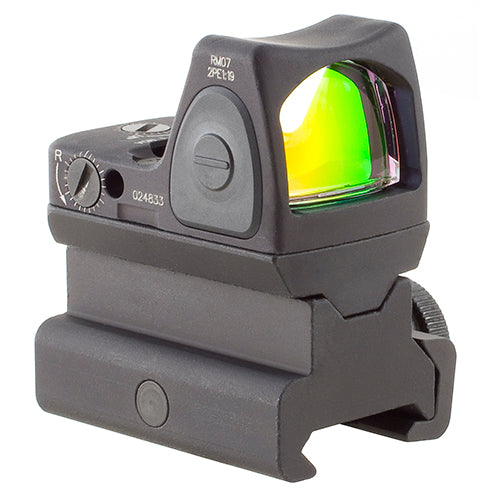 Developed to improve precision and accuracy with any style or caliber of weapon the Trijicon RMR (Ruggedized Miniature Reflex) Type 2 is designed to be as durable as the legendary ACOG. The RM06 is an LED sight powered by a standard CR2032 battery. Housed in rugged forged aluminum the RMR Type 2 is extremely tough yet lightweight. The easy-to-use adjusters with audible clicks allow for quick windage and elevation adjustments.

With eight available brightness settings the reticle can be manually adjusted by pressing the plus or minus buttons on either side of the unit. To switch to auto adjust mode simply press both buttons simultaneously and release. To save battery life turn the optic off by pressing both buttons simultaneously and holding for 3 seconds.

The Trijicon RMR Type 2 is tougher than any alternative and suitable for military law enforcement and hunting applications.

Specifications:

- Magnification: 1x
- Bullet Drop Compensator: No
- Length (in): 45mm
- Weight (oz): 1.2 oz w/Battery
- Illumination Source: LED
- Reticle Pattern: 6.5 MOA Dot
- Day Reticle Color: Red
- Night Reticle Color: Red
- Bindon Aiming Concept: No
- Adjustment @ 100 yards (clicks/in): 1.0
- Mount: RM34 Picatinny Rail
- Housing Material: Forged Aluminum
- Batteries: 3V Lithium Battery
- Battery Life: Over 4 years of continuous use (when used at 70ºF (21ºC)) at setting 4 of 8. *Extreme temperatures (high or low) will affect lithium battery performance.