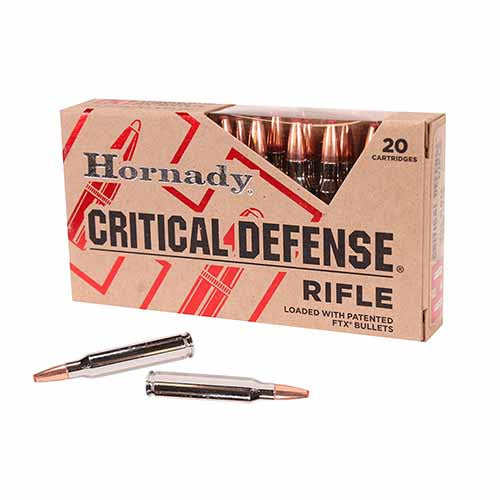 Hornady Critical Defense Ammunition was purpose built for defensive use and is designed to deliver reliable and controlled expansion regardless of the target every time. Critical Defense Ammunition is loaded with Hornady's FTX bullet which has a soft polymer insert that delivers superior controlled expansion and large deep wound cavities over a wide range of velocities. Each round is loaded into a nickel plated brass case for increased visibility in low-light situations and premium low flash propellants that deliver proven performance even in very short-barreled firearms that will not disrupt night vision.

Specifications:

- Caliber: .223 Remington
- Bullet Weight: 73 Grains
- Bullet Style: Polymer Tip
- Lead Free: No
- Case Type: Nickel Plated
- Primer: Boxer
- Corrosive: No
- Reloadable: Yes
- Quantity: Per 20

Ballistic Information:

- Muzzle Velocity: 2790 Feet Per Second (FPS) Muzzle Energy: 1262 Feet Pounds and Muzzle Trajectory: -1.50"
- 100 Yards: Velocity: 2448 FPS Energy: 971 Ft Lbs and Trajectory: 0
- 200 Yards: Velocity: 2131 FPS Energy: 736 Ft Lbs and Trajectory: -4.40"
- 300 Yards: Velocity: 1839 FPS Energy: 548 Ft Lbs and Trajectory: -16.40"
- 400 Yards: Velocity: FPS Energy: Ft Lbs and Trajectory:

Note: Test Barrel Length is 24"