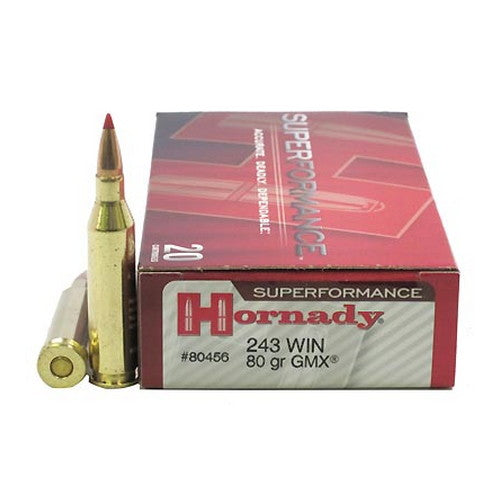 Superformance ammunition is loaded with proprietary propellants that increase the velocity ratings up to 200 feet per second compared to other popular brands. Because there is no increase in pressure regardless of the caliber there is no increase in felt recoil but there IS an increase in efficiency and high speed performance. From sub-zero arctic temperatures to almost unbearable desert heat SUperformance ammunition can withstand any hunting habitat.

Hard-hitting and deep-penetrating the GMX bullet combines monolithic construction with pioneering ballistic design to meet the need for a premium non-traditional bullet. The mono-metal design of the GMX bullet is crafted from a copper alloy. Harder than solid copper the copper/zinc alloy has been proven to shoot cleaner foul less and deliver consistent even pressure curves. The tough alloy material routinely retains 95% or more of its original weight and expands up to 1.5 times its original diameter. Featuring a long sleek profile with cannelures the design reduces the bullet's overall bearing surface and drag while achieving some of the highest ballistic coefficients from monolithic non-traditional bullets. Initiating expansion upon impact the hard polymer tip drives into the hollow cavity at the front of the bullet creating a mushroom-style projectile as it travels through the animal. Fully California compatible and appropriate for use in other areas requiring the use of non-traditional bullets GMX is ideal for any sized game from antelope to moose. This ammunition is new production non-corrosive in boxer primed reloadable brass cases.

Specifications:

- Caliber: .243 Winchester
- Bullet Weight: 80 Grains
- Bullet Style: Polymer Tip GMX
- Lead Free: Yes
- Case Type: Brass
- Primer: Boxer
- Corrosive: No
- Reloadable: Yes
- Quantity: Per 20

Ballistic Information:

- Muzzle Velocity: 3425 Feet Per Second (FPS) Muzzle Energy: 2083 Feet Pounds and Muzzle Trajectory: -1.50"
- 100 Yards: Velocity: 3080 FPS Energy: 1684 Ft Lbs and Trajectory: 1.10"
- 200 Yards: Velocity: 2760 FPS Energy: 1353 Ft Lbs and Trajectory: 0
- 300 Yards: Velocity: 2463 FPS Energy: 1077 Ft Lbs and Trajectory: -5.70"
- 400 Yards: Velocity: 2184 FPS Energy: 847 Ft Lbs and Trajectory: -17.10"

Note: Test Barrel Length is 24"