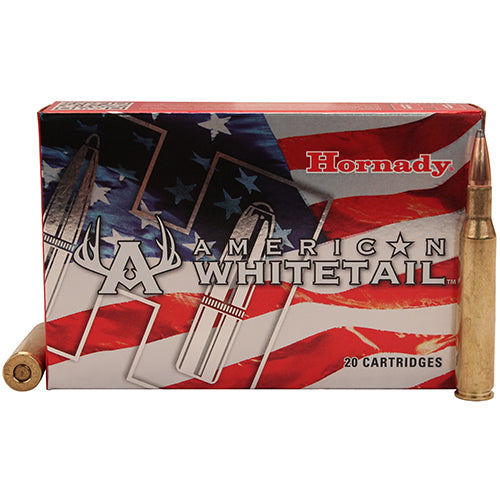 Hornady designed and tailored the American Whitetail line of ammunition just for the Whitetail Deer hunter. This ammunition line is loaded with the legendary Interlock bullet at conventional velocities in the most popular bullet weights for taking down the buck of a lifetime. Hornady has combined a generation of ballistic know-how and combined that knowledge with modern components and manufacturing excellence to create a line of ammunition that will deliver the consistent accuracy and performance that they have built their reputation upon.

The Hornady InterLock bullet is designed to be a devastating hunting bullet and nothing less. The InterLock Ring a Hornady exclusive ensures that the hard-alloyed lead core and tapered jacket remain locked together during expansion. The resulting bullet retains more mass energy and momentum after impact and transfers that energy into the target. It is this reliable stopping power that has earned the InterLock a worldwide reputation as a bullet for the serious hunter. This ammunition is new production non-corrosive in boxer primed reloadable brass cases.

Specifications:

- Caliber: .270 Winchester
- Bullet Weight: 140 Grains
- Bullet Style: Soft Point
- Lead Free: No
- Case Type: Brass
- Primer: Boxer
- Corrosive: No
- Reloadable: Yes
- Quantity: Per 20

Ballistic Information:

- Muzzle Velocity: 2940 Feet Per Second (FPS) Muzzle Energy: 2687 Feet Pounds and Muzzle Trajectory: -1.50"
- 100 Yards: Velocity: 2747 FPS Energy: 2345 Ft Lbs and Trajectory: 1.60"
- 200 Yards: Velocity: 2562 FPS Energy: 2040 Ft Lbs and Trajectory: 0
- 300 Yards: Velocity: 2384 FPS Energy: 1767 Ft Lbs and Trajectory: -6.90"
- 400 Yards: Velocity: 2214 FPS Energy: 1523 Ft Lbs and Trajectory: -19.80"

Note: Test Barrel Length is 24"