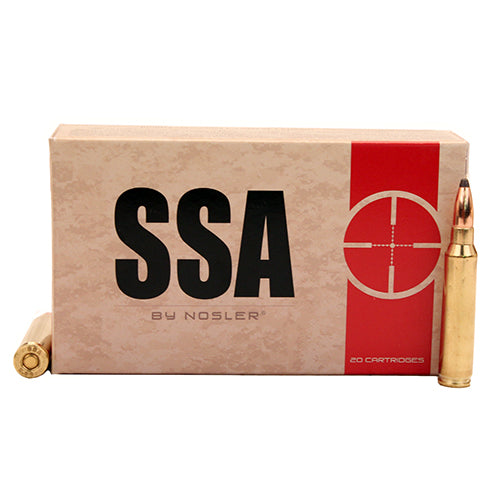 SSA ammunition by Nosler is tuned specifically for use in semi-automatic firearms. Loaded to pressures that reliably cycle semi-auto's for maximum dependability SSA ammunition is now exclusively loaded up front with Nosler bullets for unparalleled down range performance. Whether shooting on the range in the field law enforcement or defense operators depend on their ammunition to function as designed with every trigger pull. SSA ammunition was created designed and assembled with this in mind so it can be trusted as the right tool for the job.

Custom Competition bullets blend match winning accuracy and consistency with maximum value for performance-minded shooters. Highly concentric jackets ultra precise lead alloy cores and hand inspected quality offer competitive shooters more for less. The small meplat provided by the hollow point results in reduced drag and increased aerodynamic efficiency. This ammunition is new production non-corrosive in boxer primed reloadable brass cases.

Features:

- Brass cases loaded with premium Nosler bullets
- Powders and charge weights selected for reliable performance in semi-automatic firearms
- Engineered to provide the ultimate accuracy and performance from your rifle
- Loaded rounds are visually inspected

Specifications:

- Caliber: 5.56x45mm NATO
- Bullet Weight: 63 Grains
- Bullet Length: Not Provided by Manufacturer
- Bullet Style: Soft Point Spitzer
- Case Type: Brass
- Quantity: 20 Rounds

Ballistics Information:

- Muzzle Velocity: 2550 fps
- Muzzle Energy: 910 ft lb
- Recommended Twist Rate: 1 in 10"