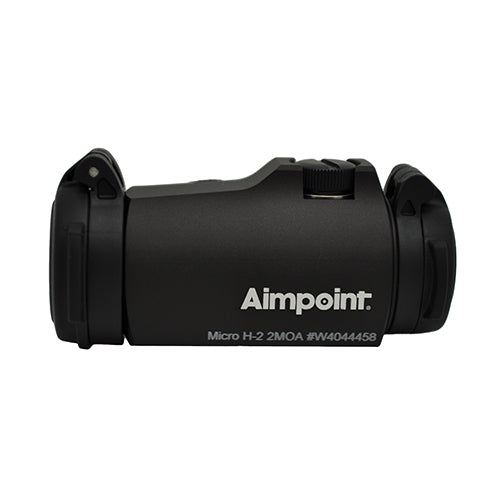 Micro H-2 redefines everything you thought you knew about compact red dot sights. Inside the sight housing are advanced optical lenses that takes optical performance to a higher level. Cutting edge lens coatings radically improve the shape and clarity of the 2 MOA red dot.

Standard Features for Aimpoint Sights:

- Unlimited field of view
- Parallax-free and unlimited eye relief
- Unaffected by extreme weather conditions
- Rugged durable construction
- No hazardous materials
- No laser emission that could be harmful to your eyes
- Mechanical switch for speed and reliability
- Increased aiming confidence

Specifications:

Optical Data:

- Light Source: LED (Light Emitting Diode) totally eye-safe
- Red Dot Size Minute of Angle (MOA): 2
- Parallax: Absence of Parallax - No Centering Required
- Eye relief: Unlimited
- Night Vision Compatibility: No
- Anti Reflex Coating all Surfaces and Multi Layer Coating Objective Lens: Yes
- Magnification: No magnification 1x

Electronic Data:

- Battery: One 3V Lithium Battery Type CR2032
- Battery Life: 50000 (Over 5 Years of Continuous Use)
- Dot Intensity Adjustment: Mechanical Switch
- Daylight (DL) Settings: 1 Off and 12 DL of Which One Extra Bright

Mechanical Data:

- Material Housing: Extruded High Strength Aluminum
- Surface Finish: Anodized Semi Matte
- Color Housing: Black
- Adjustment 1 Click: 13mm at 100m (1/2" at 100 Yards)
- Mounting Methods: Integrated Picatinny/Weaver

Environmental Data:

- Temperature Range: (-20° - +140° F
- Water Resistance: Submersible to 15 Feet (5m)
- Radioactive Components Used: None

Dimensions:

- Length: 12.70"
- Weight Sight Only: 3.30 oz.