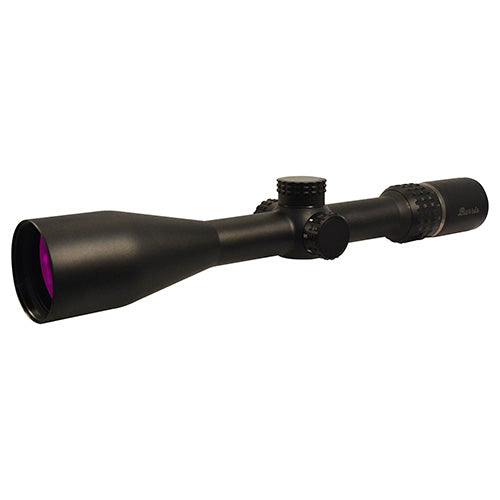 The Veracity 3-15x50mm riflescope is designed to help you capture prairie predators elusive elk or dangerous game. Proven Burris engineering is combined with state-of-the-art refinements for accuracy and precision.

Its 5-times zoom system provides a wide field of view and powerful ranging.

The front focal plane reticle design allows accurate computation of distances at any magnification. It also provides both trajectory and windage reference points.

Accurate and repeatable quarter-MOA adjustments allow for fine-tuning. And side-adjustable parallax lets you instantly correct parallax while maintaining your shooting position.

Features:

- Designed for serious big game and varmint hunters
- Its Ballistic Plex E1 FFP reticle has trajectory-compensating technology and cascading dots for wind drift compensation when using nearly any big game hunting cartridge
- Calculated in MOA the reticle features trajectory compensation out to 600 yds.
- Wind dots representing a 10 m.p.h. wind adjustment are located at every hash mark out to 500 yds.
- The 50 mm objective allows for maximum light collection
- Versatile 5-times zoom system provides a larger field of view at close ranges and better target acquisition at long ranges
- Front focal plane reticle design allows the reticle size to increase or decrease as magnification is increased or decreased; trajectory compensation is always correct and proportional for the selected power setting; also called first focal plane or FFP
- Reticle measurements remain correct and proportional to the target regardless of power setting
- Reticle features are useful for determining target size and distance to the target and for trajectory compensation at multiple magnification settings
- Progressively Thick Crosshairs (PTC) are very fine in the center and progressively thicker away from the center for ultra-fast target engagement at close ranges and in low-light conditions; effective at any magnification
- Low-profile adjustment knobs have finger-adjustment zero for windage and elevation; easily resets to zero once sighted in
- Advanced windage and elevation adjustment matches the reticle's MOA measurement system; adjustment is accurate repeatable fast and easy
- Ergonomic side focus allows for easy-to-reach parallax adjustment from 50 yds. to infinity
- High-grade optical glass provides excellent brightness and clarity with lasting durability
- Index-matched Hi-Lume multicoating provides low-light performance and glare elimination
- Double internal spring-tension system allows the scope to hold zero through shock recoil and vibrations
- Waterproof
- Nitrogen-filled body tubes prevent internal fogging in the cold and rain
- Precision-gauged and hand-fitted internal assemblies maintain a consistent point of impact through the magnification range regardless of shock and vibration
- Solid 1-piece outer tube is stress-free and durable—withstands shock and vibration from even the heaviest-recoiling calibers
- 30 mm body tube

Specifications:

- Magnification: 3x-15x
- Reticles: Ballistic Plex E1 FFP
- Knob Style: MAD System MOA
- Objective Lens Diameter: 58 mm
- Clear Objective Lens Diameter: 50 mm
- Ocular Lens Diameter: 44.25 mm
- Focal Plane: FFP
- Main Tube Size: 30 mm
- Field of View: 36 low - 7.5 high (ft. @ 100 yds.)
- Eye Relief: 3.50" - 4.25"
- Exit Pupil: 16 low - 3.3 high (mm)
- Click Value: 1/4 MOA
- Elevation Adjustment Total Capability: 70 MOA
- Windage Adjustment: 40 MOA
- Parallax/Focus: Side focus/PA
- Adjustable Parallax: 50 yds. - infinity
- Length: 14.1"
- Weight: 25.1 oz.