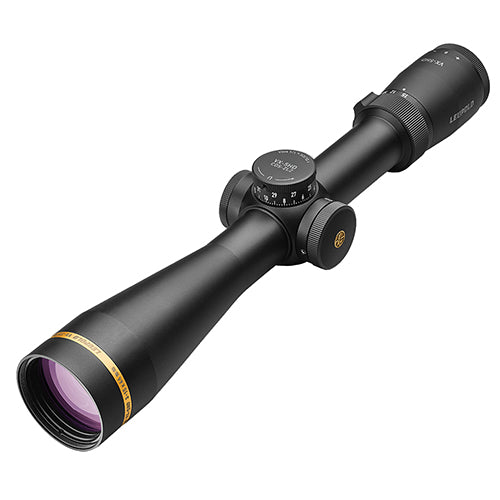 The VX-5HD is taking optical performance to a different level. Leupold gave it a High-Definition optical system for sharpened clarity and the Twilight Light Management System for even greater low-light performance giving hunters a visible advantage at dawn and dusk when the biggest game is on the move. The CDS-ZL2 (Custom Dial System ZeroLock 2) elevation dial locks in place so it cannot be inadvertently rotated off zero. A mere press of a button will allow the user to dial up two turns of elevation if necessary. On the 2nd revolution of the elevation dial the button sinks in to show you are on the 2nd turn so you can dial for extended ranges and never lose your place. The covered pop-up windage dial provides fast and accurate sight-in and easy rezero. All VX-5HD CDS-ZL2 riflescopes include one free Custom Ballistic Dial with purchase. FireDot illuminated reticles provide daylight bright red dot-like performance with an easy to use 1 button intensity adjustment.

Features:

- 1/4 MOA Finger Click: Finger click adjustments for windage and elevation (¼-MOA) offer absolute repeatability and dependability over a lifetime of extreme use (metric adjustments - 1 cm per click
- 30mm Maintube
- 5:1 Zoom Ratio
- Blackened Lens Edges: Blackened lens edges reduce unwanted glare and diffusion through the lens edges to provide better resolution improved contrast and superior optical perrformance.
- CDS-ZL2 Zero Lock Adjustment with Revolution Indicator
- Extended Battery Life
- FireDot Illumination: Select models are available with our exclusive FireDot Reticle System in your choice of FireDot Duplex FireDot Circle Ballistic FireDot FireDot LR Duplex FireDot 4 FireDot Pig Plex FireDot TMR and FireDot SPR. Once activated the dot within the reticle illuminates with bright sharp definition while the rest of the reticle is non-illuminated. This combination leads your eye naturally to the center aiming point and makes target acquisition quick precise and simple.
- Guard-Ion Rain shedding coating: Water dirt and fingerprint shedding lens coating. Extremely durable and scratch resistant.
- Side Focus
- Twilight Max Light Management System: Light management means delivering usable light to your eye and forming a crisp high contrasting image. Lens coatings are applied that maximize light transmission in blue colors since your eye is more sensitive to blue in low light. Red colors are also maximized since they dominate scenes in typical hunting situations and finally the balancing colors to develop the highest possible contrast. Glare is controlled with special mechanical structures. The end result you can see antler tines in dark shadows long after the competition has gone home.
- Twin Bias Spring Erector System

Specifications:

- Color: Matte
- Reticle: Boone & Crocket
- Dial: Zero Lock 2 turn 1/4 MOA
- Parallax Adjustment Option: Side Focus
- Actual Magnification: Low: 3.0 x High: 15.0 x
- Linear Field of View (ft/100 yd): Low: 38.2' High: 7.9'
- Linear Field of View (m/100 m): Low: 12.7 m High: 2.5 m
- Eye Relief: Low: 3.8" High: 3.7"
- Eye Relief: Low: 97 mm High: 94 mm
- Weight: 19.0 oz.
- Weight: 539 g
- Objective Clear Aperture: 1.7"
- Objective Clear Aperture: 44 mm
- Elevation Adjustment Range: 75 moa
- Windage Adjustment Range: 75 moa
- Length: 13.5"
- Tube Length: 5.4"
- Eyepiece Length: 3.3"
- Objective Length: 4.8"
- Objective Diameter: 2.1"
- Eyepiece Diameter: 1.8"
- Tube Diameter: 1.18"